Last Night in England
Posted on 2005/05/03 02:08:17 (May 2005).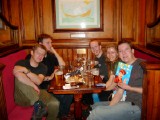 [Saturday 30th April]
Today was our last full day in England. It began with a cleaning marathon, trying to get the flat shipshape for when the landlady came round to collect they keys etc. Tom popped round for lunch, and we headed over to the Cross Keys - maybe for the last time! After lunch Tom very kindly allowed us to offload some stuff onto him - including a big box to go the tip, and then he went home and we finished off the cleaning.
Left the flat around 5ish, with help from Chie's friends Junko and Masato who gave us (and all our luggage) a lift into town. We'd planned to stay in a hotel in Reading for our last night in England, as it would make getting to the airport far easier the next morning (plus we couldn't exactly hand over the keys to the landlady at 6AM Sunday morning). We stayed at the County Hotel - I guess the hotel itself wasn't bad, but the woman on reception was absolutely shit, and got into a big argument with Chie about the car park and managed to be unnecessarily rude and offensive in the process. We just wanted our friends, who had driven us there, to be able to leave their car there for half an hour or so while we bought them a coffee to say thank you. As hotel guests we were entitled to a parking space for the entirety of our stay, and we only wanted to use it for less than an hour, but because the car didn't actually belong to us she was being really dificult. The manager stepped in after a while and told the stupid woman to shut up more or less, and said it was fine for us to leave the car there for a while. You wonder how people like that get jobs sometimes. I guess though it was fitting that on our last night in England before heading off to Japan we should have one last example of the kind of apalling standards of customer service with which my country is plagued.
The evening from then on was supposed to be spent at the beer festival, but reports of opressive queuing made us give up on that idea, and instead Chie and I split off and did our own thing, each spending the time in different pubs in Reading with our respective groups of friends.
I really wasn't that bothered about the beer festival in actuality - I just wanted to be surrounded by my friends and didn't particularly care where that was going to take place (it turned out to be the Back of Beyond). I had a really great, albeit slightly emotional evening, and was accompanied by a host of great people who'd gathered to wave me off - Rob, Byrnie, Mark, Michelle and Paul to name just a few. After the pub closed Rob seemed keen to go on to the Rising Sun, which had a late license, but we didn't stay long as it was really busy and too loud to talk or anything. Finally Chie and I turned in at half past midnight, or something like that, aware that we had a plane to catch the next morning.



Comment 1
I hope you felt it was a good send off. I certainly felt it was.

Miss you already, mate!

Posted by Rob lang at 2005/05/06 13:45:59.
Post a comment