Submitting, Packing up and Beer Festival
Posted on 2005/05/03 02:07:14 (May 2005).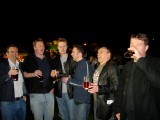 [Friday 29th April]
Dad stayed the previous evening - if you can call it evening, as we didn't get back until gone 2am. We got up about 8 (to me, an inhumanly short length of time to sleep) and headed into Reading to sort out submitting my thesis. As it turned out this was going to require two trips, we left the copies of the thesis with the binders, who said we'd need to come back at 2pm to pick it up. By no means were we going to sit around twiddling our thumbs for this time, so we got back in the car and headed back to the flat to sort out clearing it out and packing it up. On the way to the flat we did afford ourselves a short break to have a rather fantastic cooked breakfast at The Gorge Cafe. Apparently it had been there since the time my Dad had briefly lived in Reading, when he was a boy.
The remainder of the morning consisted of removing stuff from the flat, either to be packed up and stored at my Dad's house, or to go to the tip. The tip was a surprising fun experience, and I found great satisfaction and release in hurling old crap into these giant skips. Of course, we paid appropriate attention to that which was recyclable - clothes, cardboard and metal stuff were all "filed" seperately.
We headed back to Reading for 2pm to pick up the thesis from the binder and submit it. It felt quite good to have the finished thing in my hands (well, subject to the inevitable corrections later on), particularly as I had my Dad there to witness it all. This went to the exams office, and whilst on campus I did a few other bits and pieces of admin type stuff related to submitting. We left campus before 3, but it took quite a while to get back to the flat, as it seemed the bank holiday traffic had started early. Anywho, when we got back we did the last bit of packing up and loading Dad's car, and he headed off for the long drive back up to North Wales around 5ish. What an absolute star - he really had gone above and beyond the call of duty. You'd have hoped by age 28 I would no longer have to rely on my Dad to move house!
After Dad headed off I was left with a number of items on my "to do" list - taking some stuff over to my old office, and then Louise - my brother's wife's sister (my sister-in-law?) came over in the early evening to pick up the washing machine. This had been an absolute git to unplumb, which only made me all the more happy to see it go. Luckily Rob, bless him, turned up to pick some other stuff around the same time as Louise, so the poor unsuspecting fool got roped into lugging a washing machine down two flights of stairs. I guess it wasn't as heavy as I'd thought it would be in the end (either that or Rob bore the brunt of it!).
Finally, with all of that out of the way, by about 8ish I was free to have a break, and got a lift back into Reading with Rob to head over to the beer festival and meet up with some old friends from where I used to work (I'm actually getting used to the "used to" bit here now). I was queuing for about an hour, didn't get in until 9:30, and the place stopped serving at 11! Still, it was great to see all the guys, even if for a fairly short space of time. Got back home some time gone midnight after a final time experiencing the shambles of a train service between Reading and Pangbourne (the standard late night bus replacement between Tilehurst and Pangbourne, which of course wasn't there when we arrived). As you can imagine, it didn't take that long to get to sleep.



Post a comment