Oxford
Posted on 2005/03/16 10:35:01 (March 2005).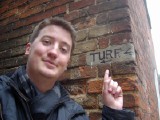 [Tuesday 15th March]
This was Chie's sister's last full day in England, and as I was off work I thought it would be nice to show her round Oxford a bit. As it happens, I realised I don't really know much about Oxford other than the pubs, but I got a little guidebook and together we just about muddled through. Did many of the usual sightseeing things - Carfax Tower, Christchurch College (made two trips here, as the dining hall was shut on the first attempt), the Bridge of Sighs, etc, etc.
In the evening Yuka and I stayed in Oxford, and went to visit a couple of pubs - the King's Arms, followed by the White Horse, and of course the Turf Tavern. Later we were joined by Gav and Chie, to go for a Lebanese meal, as it happened to be my birthday today. We ate at Du Liban, which was very nice, and went for another drink at the Eagle and Child afterwards - the pub where supposedly C.S. Lewis and J. R. R. R. R. R. R. Tolkien used to go to dicuss lions, witchs, wardrobes, hobbits and rings over a couple of beers.



Post a comment