Abergavenny and Bath
Posted on 2005/03/16 10:19:06 (March 2005).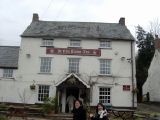 [Sunday 13th March]
Had breakfast at Vera's, and following a chat with Robin about potential wedding venues, we went out to look at a candidate not too far from Vera and Robin's house. I was rather taken with it, although it was pretty rustic and a bit rough around the edges, the house still had a sense of grandeur about it. We checked later on to discover it probably wasn't available when we wanted it, so this idea had to be placed to the back burner.
For lunch, Vera and Robin treated us to an early birthday meal at Ye Olde Crown Inn, not far out of Abergavenny. This was all very nice. After lunch, Chie, Yuka and I headed off, having decided to make a stop off somewhere or other on the way back.
So we spent a couple of hours in Bath in the afternoon, took a look at the pump room, the royal circus, the crescent, and so on. We got back at 7 or 8, and didn't really do much the rest of the evening. None of us were particularly hungry, so we didn't really cook anything for dinner. I started to feel peckish much later on in the evening so made a pan of rice, and knocked up a couple of omasubi.



Comment 1
Hi John: was the spring-water available in the Pump Room? When Joc and I went there was a chap in full 18thC regalia handing out the £1 glasses full. Appauling stuff! There was I expecting a cure for all ills and it just made me feel sick!! Still, a great place to visit for the underground Roman stuff.

Posted by Nigel at 2005/03/17 11:05:07.
Comment 2
Yes the same sort of guy was there handing out the same (apparently) foul tasting water. I have a feeling it may have only been 50p when I was there. I didn't try it myself, but I did enjoy watching the screwed up faces of other people trying it.

Posted by John at 2005/03/18 14:20:44.