Burns Night
Posted on 2005/01/28 09:42:05 (January 2005).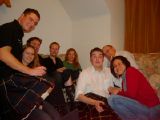 [Tuesday 25th January]
After much preparation and planning Burns Night had finally arrived! There was some confusion about the amount of people coming - having been working on the assumption of 6, which then dropped to 5 the day before, I was pleasantly surprised that in the end we managed a very respectable 10. This of course meant a bit of a last minute rush in the kitchen to make sure there was enough food for everyone, but I think we managed fine in the end.
The bulk of the guests arrived at about 8:30 or so, and we commenced with Sam, our resident 100% bona fide Scotsman, reading the Selkirk Grace and my own take on Scotch Broth - no meat, and with a French Onion soup style cheese topped crouton. This seemed to meet with general approval, which was an encouraging start. The main was of course haggis, neeps and tatties, piped in (OK I played an MP3 of Amazing Grace on bagpipes), and then addressed at the table by me with the traditional Ode to a Haggis. Following on from this, for dessert I served Marr's Hurdies, which is of course a totally made up name - Marr being the surname of the Scottish part of my family, and Hurdies meaning buttocks. This consisted of shortbread, clotted cream ice cream and raspberries in a whisky syrup. After dinner we had a bit more of Burns work in a sort of address to / reply from the lassies, whereby Rob and Kate read a stanza each at a time from the mouse / louse poems. This I think worked rather well, particularly Rob doing each stanza in a different comedy accent (honestly, hilarious, although at the risk of using an already worn out cliche you had to be there).
Having never been to a Burns Night before, let alone held my own, I wasn't sure how it would turn out, but on balance I don't think it could have gone much better. Even the poetry reading bits which I thought would be awkward and embarassing were surprisingly entertaining. Clearly plenty of whisky helped this somewhat, but still all in all it was a really great night. There are of course a few pictures of the evening.



Post a comment