Steve's Birthday
Posted on 2004/08/22 24:14:06 (August 2004).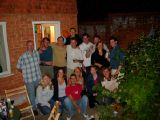 [Saturday 21st August]
Went to a surprise barbeque at Michelle and Steve's house to celebrate Steve's 30th. Didn't really think through the food side of things, so consequently became quite drunk. Spent a lot of money on taxis, and got home about 4AM. See also:

Comment 1
John, I hope thats a veggy sausage ?
/john/pictures/Steves30th/SANY0022.JPG

Posted by Kev at 2004/08/22 13:32:17.
Comment 2
Great pictures, John. Thanks to everyone who came, and big extra special thanks to Michelle. You're the best!

Posted by Steve at 2004/08/22 15:00:16.
Comment 3
Yes Kev, of course it is - you can tell by the fact it is slightly fluorescent.

Posted by John at 2004/08/23 12:01:35.
Comment 4
Ahh, thanks Steve. And thanks John for putting these pictures up so quickly - eveyone has had a really good laugh at my expense. There is also a rather disturbing mpeg of me dancing with balloons down my top to Prodigy 'smack ma bitch up'!!! We'll keep that one for the personal files I think.

Posted by Michelle at 2004/08/23 08:27:52.
Comment 5
Well I'd like to thank my agent, my parents... but most of all I'd like to thank god.

Posted by John at 2004/08/23 09:30:19.
Comment 6
Oh dear, looks like this site has been spammed - does that happen often - dam them!!!

Posted by Michelle at 2004/08/24 11:14:31.
Comment 7
Fear not, I deleted the offending item already.

Posted by John at 2004/08/28 13:09:22.