Plumbing
Posted on 2022/05/08 09:43:45 (May 2022).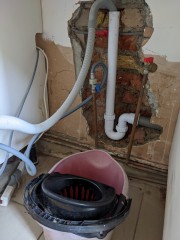 [Tuesday 3rd May 2022]
The washing machine had started leaking all over the kitchen floor yesterday evening, which turned out to be due to a blocked drain. I spent much of last night and today (in bouts between my actual day job) unblocking the drain and cleaning up.

After a fair bit of plunging, and removing a couple of U-bends, I couldn't seem to dislodge whatever it was, so called a plumber: albeit they wouldn't be able to visit until Thursday. Then it occurred to me the plunger had developed cracks where the rubber had perished, and probably wasn't forming a perfect seal. So I went and got a new plunger and tried again. and eventually I actually managed to dislodge whatever it was. Still a lot of effort involved after that of mopping up and putting everything back together.

I found the whole thing rather draining.



Comment 1
You have my sympathies. Plumbing is not my favourite subject. Well done on your success in rectifying it though. And, of course, the joke at the end! :D

Posted by Nigel at 2022/05/09 09:01:39.