Glastonbury
Posted on 2021/09/07 22:44:19 (September 2021).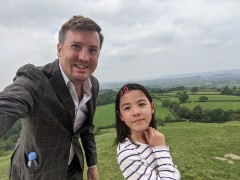 [Friday 3rd September 2021]
We left Devon in the morning to drive back to London, and on a bit of a whim - Chie's suggestion - we took a detour to stop off in Glastonbury on the way back. After a quick dash up Glastobury Tor to admire the view we went into the town centre for a browse around all the weird and wonderful shops there, and to have lunch (in a vegetarian cafe of course). It occurred to me while we were there that Glastonbury high street is probably the closest thing that exists in real life to Diagon Alley in Harry Potter - there are essentially shops selling ingredients for making potions - all sorts of strange and unusual things you certainly can't buy in our local Sainsbury's. This made for a very nice way to wile away a couple of hours, and a nice distraction from the drudgery of the driving. Although rather frustratingly when we got back in the car again Google Maps told us we still had four hours driving ahead of us - pretty much the same as it had been when we'd departed Devon in the morning, and we'd been driving for an hour and a half to get to Glastonbury!



Comment 1
The moth is actually a Speckled Wood butterfly which has been quite rare this year .....

Posted by Dad at 2021/09/08 09:21:10.