Rollright Stones
Posted on 2021/07/03 11:09:31 (July 2021).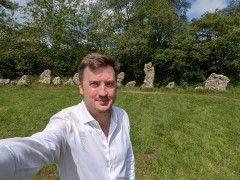 [Saturday 26th June 2021]
I went for a walk today to see the Rollright Stones in the Cotswolds.

Read more on John Goes for a Walk.



Comment 1
A great account of a really interesting walk... one of your best yet. As the reader |I felt that I was there with you to. Good research obviously was the foundation of a good route plan.
lots of love
Dad

Posted by Dad at 2021/07/04 07:27:15.