Day Off
Posted on 2021/05/29 15:25:19 (May 2021).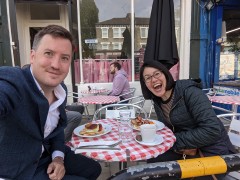 [Friday 28th May 2021]
Had the day off work today. Breakfast at a new cafe near home with Chie in the morning, then a long relaxing pub lunch at the Flask in Highgate with Christian.


Comment 1
Hisashiburi ni gaishoku dekite yokattane!

Posted by Yoko at 2021/06/04 09:55:31.
Comment 2
Yes it has been a while!

Posted by John at 2021/06/08 12:56:16.