Birthday
Posted on 2021/03/20 13:44:06 (March 2021).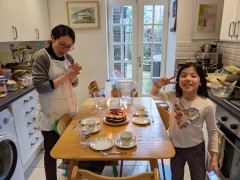 [Monday 15th March 2021]
My birthday today. Took the afternoon off work, went for a walk to the heath, then when I got back had black forest gateau with the girls, and in the evening started building the Lego Harry Potter Hogwarts Clock Tower with Erika.


Comment 1
Otanjyoubi omedetou!!
Afternoon tea ha ikagadesitaka?
Harry Potter no Lego ha taihen desitaks?

Posted by Yoko at 2021/03/23 04:45:51.