Small Beer
Posted on 2021/03/06 14:54:39 (March 2021).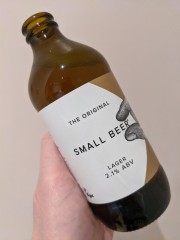 [Friday 5th March 2021]
Worked quite hard today, and was still going at 5:30, which is unusual for a Friday. Tortelloni for dinner (we'd had an Ocado delivery the day before).

Tried "Small Beer" this evening, a brand I'd had my eye on for some time, and discovered this week that Ocado sold it. I thought their lager tasted pretty good and is only 2.1% ABV. Although at £11.99 for 6 350ml bottles (£5.70 a litre) they must be making good profits on it (and for once it doesn't seem to be any cheaper anywhere else than it is at Ocado). At current duty rates, were that bottle a 5% beer it would incur 33 pence of duty. However there's a different band below 2.8%, and so the duty here is just 6 pence. Much higher margins on an already premium priced product. Once taxes are made (and ignoring retailer margins) they'll make £4.61 per litre. Compare that to something generic like Foster's, as sold in a 4x440ml pack at Ocado (£3.60), at 4% ABV means the cost per litre without any taxes is £1.07. That's quite a difference!

Small Beer as a company only makes beer at 2.8% or lower, and what initially sounds like a laudable attempt to make decent tasting beer without some of the downsides of typical ABV levels actually starts to sounds more like a shrewd business opportunity.



Comment 1
Hi John!! Check out the origin of the phrase "small beer" on www.wiktionary.org - it is very interesting. Small beer was one of the ales used in times before there was drinkable water freely available - the alcohol in ale killed off the bacteria in the water used, and "small beer" was the least acoholic of the beer they made to keep people hydrated. It must have been good times!! :-)

Enjoy!! :-)

Posted by Bryan in Greece at 2021/03/07 18:48:44.