Car, Budget, Girl's Day
Posted on 2021/03/06 14:54:38 (March 2021).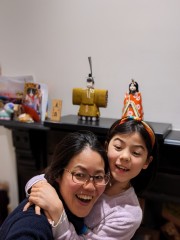 [Wednesday 3rd March 2021]
A lot on today - we bought a car, the budget (thankfully nothing bad for me) and also it was Girl's Day in Japan.


Comment 1

How are you?
Ohinasan berry cute、
Did you buy a car?
Good!!
 




Posted by Chikako Moriwaki at 2021/03/07 07:15:28.
Comment 2
Καλοτάξιδο!!! (It is Greek for "May you have many happy journeys in it")...!!

Posted by Bryan in Greece at 2021/03/07 18:51:23.