Heath with Erika
Posted on 2020/12/12 10:51:10 (December 2020).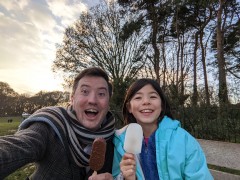 [Sunday 6th December 2020]
Managed to persuade Erika to come to the heath with me with the promise of an ice cream. So we sat together for a while at my favourite spot, the barrow, having ice cream / lollies (despite near freezing temperatures) followed by some more Nuit St Georges. Lovely.


Comment 1
marry Christmas and 
Happy new year!

sunset view is verry
beautiful!
iine!

Posted by Chikako Moriwaki at 2020/12/23 10:43:56.
Comment 2
Erika ookikunattane!

Posted by Chikako at 2020/12/23 10:46:58.