First Apple and Winemaking
Posted on 2020/09/30 22:56:51 (September 2020).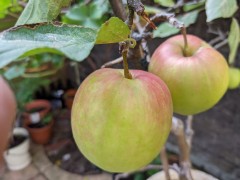 [Monday 28th September 2020]
Although technically we had already taken the first apple of this season from the tree the weekend before last (to make a token contribution to the batch of cider we helped to make while visiting Dad in Devon), today we picked the first one to actually eat. It's always quite a nice turning point of the year, and this year, having left it a bit later than usual, the apples were a bit redder than they had been previously. They're not a particularly strongly flavoured apple (the variety is red falstaff) but they obviously taste extremely fresh.

In a similar autumnal theme, we also started the process of winemaking this evening with this year's grape harvest. We had about two kilos of grapes this year, which hopefully is going to translate to at least a bottle of wine, perhaps two. Chie helped out with the destemming, and Erika helped out with the pressing (done with a potato masher) so it was a nice family activity. I don't have particularly high hopes for the wine itself - I didn't even try the end result from when I attempted this the year before last - but more want to go through the process to understand it better. Who knows though, maybe I might inadvertently make something drinkable this time round.



Comment 1
Ringo,budou takusan shuukaku dekitane!
Wine tanoshimi ne!

Posted by Yoko at 2020/10/04 05:29:47.