Escape from London
Posted on 2020/05/24 12:02:30 (May 2020).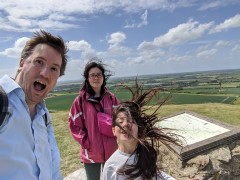 [Friday 22nd May 2020]
I had the day off from work and decided we all really needed some escape from our urban confines. So I hired a car and we got out of London to see some proper countryside - the closest example of which I could think of being Ivinghoe Beacon.


Comment 1
Hisasiburi no odekakene. Otenkiyosasoudakedo kaze ga tuyosoune.

Posted by Yoko at 2020/05/25 07:03:48.
Comment 2
First yellow flowers horseshoe vetch/'eggs and bacon' ......
Second yellow flowers ... not cowslip but 'cow wheat'

Posted by Dad at 2020/05/30 09:41:45.