The Ridgeway: Goring to Wantage
Posted on 2020/03/21 09:24:30 (March 2020).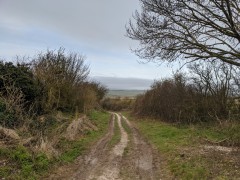 [Saturday 7th March 2020]
Had an early start this morning, having stayed overnight in Goring, so I could do the next section of the Ridgeway: from Goring to Wantage.

I'd quite liked my cosy room, up in the roof of the Miller of Mansfield, although I often find it a bit difficult sleeping in a different bed for the first night - just adjusting to the different sounds of the room etc. So I didn't get a perfect night's sleep, but it was good enough. Breakfast wasn't officially served until 8am but I was keen to get going as early as possible, so I went down a bit before that and just helped myself to the cold buffet stuff. Thus I was on the way by 8am.

Like many stretches of the Ridgeway, today's walk generally didn't deliver the most scintillating scenery. The countryside surrounding much of the Ridgeway is generally agricultural in nature, and despite the elevation of much of the route (frequently over 200m) the landscape either side often feels a bit, well, flat.

Still, I did enjoy two bits of the walk in particular today:

First, near the start of the walk, the long country lane leading out of Streatley which the Ridgeway follows, and then the track beyond there. Once I had got onto the track I think I walked for about 2 or 3 miles before I saw another human. That was a wonderful feeling of solitude and as I write this now, several weeks later, I realise how precious that was.

Second, towards the end of the walk, I passed Scutchamer Knob, and paused there for a while to take it in. I enjoyed this spot both because it was one of the first signs of ancient man I'd passed on the Ridgeway so far (beyond Wantage there will be many more of course!) and also because I remembered having been there once before, on a short walk with Dad over 20 years ago. This was a very evocative spot today, and I stood atop it despite the wind, eating the stem ginger biscuit I'd been given on the train yesterday, and felt something or other which I couldn't really put my finger on.

Read more on John Goes for a Walk.



Post a comment