Wassail
Posted on 2020/01/12 11:09:30 (January 2020).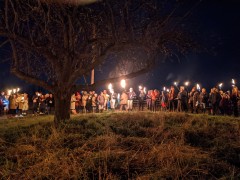 [Saturday 4th January 2020]
I'd been pleased to discover that wassailing was not something purely confined to the West Midlands and West Country, and that a few of the morris sides in the home counties organised an event, particularly in Sussex where there was also something of a cider industry. I think ideally I would have liked to go back to the wonderful Leominster Morris wassail in Herefordshire again this year, which I had attended two years ago. It had felt incredibly atavistic, and had in a way been the catalyst for my new found desure to spend more time in the countryside over the past couple of years, in part manifested through a lot of country walks.

However, the Leominster Morris always holds their wassail on Twelfth Night, the 6th of January, regardless of which day of the week that falls on. That would have been a Monday this year, and would probably have required taking at least a half day off work either side to get there and back. So it seemed eminently more sensible to go to the Chanctonbury Morris wassail in Sussex, not far from Haywards Heath, today, it being a Saturday evening.

The event was scheduled to start at 6pm, but I aimed to get there slightly earlier so I could visit the cider bar/shop at the location where the wassail was being held beforehand. The bar had apparently only opened in the last year, and although I was delighted to discover a bar solely dedicated to cider (such a rare commodity!) I did slightly worry how it would work out as a business proposition - it's a surprisingly remote spot, and there's pretty much no way to get there other than by car. I had got a taxi from Haywards Heath, which admittedly is pretty well served for taxis, but I wondered how many other people might do the same.

Anyway, at least this evening there was a fairly impressive turnout, which suggests people can manage it! Quite possibly around a hundred people were there...?

As billed, with impressive punctuality, the proceedings did indeed start around 6pm, and the gentleman I assumed to be the squire of the Chanctonbury Ring Morris Men gave an address to the assembled crowd. The attendees then collected flaming torches and processed along the track from the main cluster of farm buildings to the orchard. There had also been a torch lit procession in Herefordshire two years ago, and this really does add an edge of drama to an event like this, and gives it a really primal and magical feel. Particularly given that once we got away from the farm buildings there were no other light sources in the immediate vicinity. I hope the pictures convey some sense of the atmosphere at this point.

I decided not to take a torch in hand myself, partly because I got the sense they were in short supply and partly because I wanted to keep my hands free to take pictures (and drink cider!).

When we arrived at the orchard we formed a large circle and the ceremony began. There were verses read, songs sung, later on dances danced, but the most fun part was the part where all present were invited to make loud noises to wake up the apple trees. I had brought with me a slightly ridiculous slide whistle to contribute (see this video for the cacophony).

Then we eventually processed back to the farm buildings and The Cider Tap for wassail cakes, more cider, and more morris dancing. I joined in with one of the dances a bit later on, and it was a wonderful reminder of when I'd been an occasional dancer in the Penallt Morris Men, with Dad, in the late 1980s.

The plan after the wassail at Wobblegate was for the festivities to continue at the Royal Oak in Wineham. I had originally thought I might do a night time walk to get there, but ultimately the thought of a couple of miles stumbling through dark countryside after a couple of pints of cider didn't entirely appeal, so I asked around and managed to get a lift.

Although I love the Royal Oak, I had been just before Christmas, and somehow once I got there this evening I wasn't really in the mood. The morris dancers seemed to want to (quite reasonably) have a quiet time of it after their exertions at the wassail. I had heard there was going to be music there from 8pm, but by about 8:30 nothing had as yet started, and I decided instead maybe I should just head home. I did still have the uncertainty of whether or not I'd be able to get a taxi from the Royal Oak back to Wineham - as it turned out when I called them it was fine, but maybe it would have been a different story had I stayed until 10pm. So as it turned out I was back in London around 10pm, and back home by 10:30.

See also this Google Photos album, which contains the same pictures as linked to above, in addition to a few videos.



Post a comment