Winter Solstice at Avebury
Posted on 2019/12/29 11:46:13 (December 2019).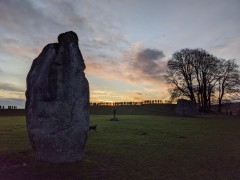 [Sunday 22nd December 2019]
Following on from the summer solstice this year, something about Avebury had obviously got under my skin. I had pondered on and off the thought of going back for the winter solstice, largely assuming that when the time came I'd be put off by the thought of the cold and the dark and the hassle of getting there. So I had slightly surprised myself when, yesterday evening, I had come to the decision that I was definitely going to make a go of it.

Having done some research on the transport logistics I'd come to the conclusion the only way to be there for the sunrise was to travel the night before. Sunrise would be around 8am, and it being a Sunday the first train out of Paddington to Swindon didn't leave until that time.

So I had stayed in the incredibly frugal Holiday Inn Express near Swindon station the previous night, and arranged a taxi from there at 6am, which got me to Avebury a little over 20 minutes later. In hindsight that was probably a bit too early, I could have had at least another hour's sleep and wouldn't have really missed much at all. I had thought perhaps there might be people there throughout the night, perhaps performing some ancient rituals or some such, but if they were they were well hidden! As it was, around 6:30am I was pretty much the only person out and about as far as I could tell.

That said, that hour walking around the stones of Avebury in almost complete solitude - and almost complete darkness - was actually quite atmospheric. Although the skies were not entirely clear the moon poked through at times, and seeing the stones by moonlight before the dawn gave them an added other worldly quality.

Eventually, and quite reassuringly, other people did start to trickle in, and slowly gathered on the ridge to the south east of the village - the same place where we had sat to watch the sunset at the summer solstice.

The clouds lifted almost like curtains in a theatre being drawn to make the stage visible, and we were treated to a wonderful sunrise, which hopefully the photos do at least some justice to. Later on, after the sunrise was complete, the clouds moved back in again. It really did give a sense of a planned show.

See also John Goes for a Walk.



Post a comment