Vinegrowing Course Day 2
Posted on 2019/01/23 21:10:03 (January 2019).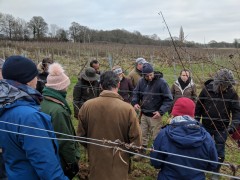 [Monday 7th January 2019]
Second day of my vinegrowing course. Following the extremely early start I'd had for the first day of the course, including allowing an hour to walk from Haywards Heath to Scaynes Hill, I decided to give myself a bit longer in bed today, and hoped I'd be able to get a taxi from Haywards Heath. This proved easy enough, I just hadn't seen the taxi rank first time round as I'd left the station from a different exit.

The morning theory session was the first with Chris, the course leader, rather than Greg who had stood in for him the first time. This morning we covered two topics - first was selecting vine varieties. This comes down to determining how well adapted a given vine is to the climate / local disease risks / soil conditions, possible legislative considerations, plus the economic considerations - not least does anybody actually want to buy a wine made of that grape? We then went over cloning and hybridisation.

The second topic was winter pruning, the goal of which is to maximise the yield and quality (i.e. ripeness) of the fruit, while also keeping the vines as accessible as possible to both people and machines. Plumpton's Rock Lodge vineyard, being there partly for education and research purposes, has some vines which have deliberately been left unpruned, to demonstrate what an unmanageable jungle they end up as (and if I recall correctly Chris also said the resulting fruit was not worth using). There are a number of different pruning schemes, however it seems in the UK at least "Guyot" has become fairly dominant, with Cordon pruning also being used in some cases. Both relied on a notion of calculating "charge" - how many ideal shoots each vine on average grew last year, and leaving roughly that many buds on the vine, either from a single cane, or from two canes depending on whether you were adhering to single or double Guyot. There was also the business of a spur, to provide growth for the following year, and that seemed to be the bit which was often most difficult to identify.

In the afternoon practical session, out in the vineyard, we continued on that theme of pruning, mainly focusing on Guyot. Tom, who runs the afternoon sessions as of today, started by going back over the theory again in the vineyard's shed, then took us out to the vines to demonstrate some examples, and finally let us all loose in pairs with secateurs to have a go ourselves. This part was a little unnerving - with somebody else's vines, and of course you can't exactly stick the wood back on if you cut off the wrong bit. I suppose that's all part and parcel of having a vineyard for teaching purposes though. The difficulty came in that the theory just describes the ideal case, often you're at the mercy of whatever state the vine was left in by last year's pruning (quite possibly also performed by students like us!), and it wasn't always easy to go from there to where the vine ideally ought to be. In particular spur selection was often tricky, given the requirement for this to be lower than the cane, pointing in the right direction, below the fruiting wire and so on. I assume this is something which just gets easier with practice!



Post a comment