Breaky Bottom Harvest
Posted on 2018/10/14 21:29:10 (October 2018).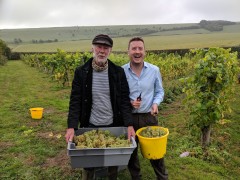 [Saturday 6th October 2018]
Since visiting Breaky Bottom for a vineyard tour and tasting this summer I had rather fallen in love with both the place and the wine made there. It's a magical setting, in a little hidden valley, and Peter Hall, the owner and winemaker had been such a fascinating and charming host that I'd been itching to find some reason to get back there.

Having heard that he relies on an army of volunteers for the harvest each year, I'd asked if I could come along and help out too, and was delighted to be added to the list. So having had the call to action a week or so prior, I had stayed in Lewes the night before (engineering works plus the fact it's an hour's walk from the nearest station meant there was no chance of making it for the 9:30am start otherwise), and excitedly headed down to Breaky Bottom this morning. I had woken to a rather atmospheric misty morning at my hotel in Lewes, and the mist remained throughout my journey from Lewes to the vineyard - on the short train journey to Southease, then the hour's walk from there. It was fortunate that I was already familiar with the route as visibility wasn't particularly good along the way!

I arrived actually a bit before 9:30, but there were already a few early rises out in the vineyard making a start. After a saying a quick hello to Peter, and getting some brief instructions from some old hands (some people had been coming to help with the harvest for over a decade) I set about picking grapes. The section of the vineyard we were focusing on today was, I think, all Seyval Blanc, one of the grapes Peter had started out with when he first planted here back in the 1970s. I initially found it a bit difficult to be confident I was picking sufficiently ripe grapes given the change in colour was a bit subtle at times - from green to a sort of pale golden colour - and I seemed to get conflicting advice on whether, when in doubt, I should err on the side of leaving them on the vine or picking them anyway. It was encouraged to taste the grapes if not sure, and I ate quite a few in the first hour or so while I was tuning my judgement. Peter himself said that it had been such a good year in terms of sunshine, that therefore the overall level of ripeness was so good, the odd slightly less ripe bunch wouldn't matter - and in fact some amount of acidity would be a good thing.

A couple of insights I found quite interesting. The secateurs used for grape harvest are really very sharp indeed, and you need to keep your wits about you at all times. I was naturally being very slow and careful as it was my first time, but one of the "old hands" managed to snip himself and bled rather profusely.

Also, earwigs. I would never have associated them with grape vines, but many of the bunches had an earwig or two hiding in them (they didn't even seem to be eating the grapes, as far as I could tell, just hiding among them). Every bucket ended up with at least one earwig in the bottom, and I'm sure quite a few end up in the press.

Finally, it was very illustrative of the phrase "I heard it through the grapevine" - it was encouraged that we work in pairs, with each person focusing on either side of a row of vines, and naturally then you can chat while you work. Of course, as I was meeting all these people for the first time, the chat tended to be of a more introductory "what do you do for a living?" nature rather than the scurrilous gossip that the phrase suggests, but it was gratifying to experience first hand where it came from.

It was actually quite hard work - unaccustomed as I am to real manual labour - and after four hours and dozens of buckets filled I was actually quite relieved when we were finally all called in for the harvest lunch.

Lunch provided further opportunity to chat to the other volunteers - many as previously noted who had been coming here to help with the harvest for years. It's no surprise that me and the group I visited with back in July were not the only people who had been so captivated by this place. It was also very interesting to have a brief chat with a young chap called Rob, who was currently doing a winemaking course at Plumpton College, and helping Peter out on a sort of apprenticeship basis. I was impressed by his enthusiasm, and couldn't help but be a bit envious of the position he was in, he had really landed on his feet being taken under Peter's wing, and quite possibly had a very exciting career ahead of him.

I abstained from the more generic wine served with the meal - somehow it would have felt inappropriate to drink anything else in this setting - and held out with the hope at least a glass of Breaky Bottom might be forthcoming at some point. This patience was duly rewarded at the end of the meal. Great to be able to drink it in this amazing place once again, surrounded by some of the people who would have picked some of the grapes for that particular vintage, and looking forward to the time in a few years when I'd be able to taste the 2018 vintage knowing I'd made a small contribution to its production.

It had started to rain during lunch, and although I felt a bit bad for shirking off, I was mindful of the fact it was going to be a bit of a slog getting back to London with the rail replacement bus (as well as nearly an hour's walk just to get back to Southease), and Chie was going out in the evening, so I had to get back. I said my thank yous and goodbyes and purposefully yomped out into the rain. By the time I arrived at Southease I was quite drenched, which felt pleasingly consistent with my first arrival there back in July.

The journey back was indeed a bit of a faff, after the short train from Southease to Lewes I was on the slow and rather cramped rail replacement bus to Three Bridges, which on a day like today looked particularly dreary and banal, and a world away from the rural idyll I had just left. From there, a train back to Victoria, and finally the tube home from there.



Post a comment