Wye to Charing
Posted on 2018/10/14 11:03:15 (October 2018).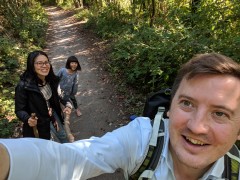 [Sunday 16th September 2018]
Did another stretch of the North Downs Way today, picking up where I left off last time (at Wye) and continuing on to the next station roughly along the route - at Charing. Chie and Erika came along this time, which informed the length somewhat - 7 miles seemed like a reasonable sort of distance for a 6 year old.

Ease of access from London (particularly North London) was a big reason for choosing to go back to the North Downs, even though I decided last time it wasn't really as spectacular as the South Downs. St Pancras is not too far from where we live, and from there the high speed trains to Ashford, with local connecting services from there, can get you from central London to the North Downs Way in an hour, given that the North Downs Way passes right next to Wye station.

Of course, as you might expect, the train station itself is by definition not in wild, unspoiled countryside, and the start of the walk was a fairly bland trek through a large field, punctuated by a farm (which provided some interest for Erika in the form of donkeys), and an orchard (which provided some interest for me) before then another large bland field.

Eventually we reached the edge of the second bland sprawling field, and the path for a while followed a shady country lane which brought us into the pleasant little village of Boughton Lees, wherein I had planned for us to stop for lunch, at the Flying Horse. This was nice enough - a slight menace of the dreaded gastropub turquoise hues in the paint job, but I tried to ignore that and focus instead on the low hanging beams.

After lunch much of the walk was again through large sprawling fields, and pretty much all of the terrain of today's walk felt predominantly agricultural. There was finally towards the end a wooded section, with a little bit more elevation according to the map, and I hoped that might offer some views - but alas the trees mostly obscured that.

Still, we managed to have fun, in a silly sort of way, thanks to the ever fruitful imagination children have - Erika picked up a stick, which variously became a boat or a bicycle or a horse if I recall correctly.

We arrived at Charing station a bit before 5. Somehow the walk OS Maps had predicted would take a little over two and a half hours had taken us more like 4 hours!



Post a comment