South Downs
Posted on 2018/08/26 09:36:24 (August 2018).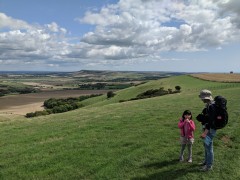 [Saturday 25th August 2018]
The weather forecast for the August bank holiday didn't look particularly promising, despite talk earlier in the summer of the heatwave returning toward the end of August. Today looked like it was going to be the only reasonable day so I persuaded the girls - who didn't seem extremely keen at the prospect of an early start - to get out of the house at a vaguely reasonable hour, and we headed down to Victoria to get the train to Lewes.

There was a rail replacement bus from there to Southease, which was significantly slower than the train would have been, but by around 11:30 we were on the South Downs Way.

For today's plan, I thought it would be good to pick up where I'd left off on my trip last month. So from Southease we headed West, and my plan was to head in an arc that would eventually bring us back into Lewes.

The first couple of miles brought us tantalisingly close to Breaky Bottom, which despite being probably only half a mile away at one point remained hidden out of view in its little valley. I was tempted to make a detour so we could at least see it but was concious of the fact we'd already be having quite a late lunch with the planned pub stop, and Erika was already getting peckish.

So we pressed on. After the first mile or so of farmland - not wholly unattractive in itself - we climbed a hill (Mill Hill I think, above the farm at Cricketing Bottom), after which we remained on the hilltops for most of the walk. Highlights along the way for Erika seemed to be the occasional appearance of blackberry bushes, and also a field we passed which had some calves in it. Although perhaps a bit less wild then the section of the South Downs Way I'd walked to the East of Southease, the views from this stretch were still really nice, and the landscape all looked a bit greener than when I'd been here in July - there must have been a decent amount of rain in the intervening weeks. We could see the sea to the South, and hills for quite some distance in every other direction. The weather was, to me, perfect walking weather - around 17 degrees - the sun shone and the clouds were only ever patchy, with plenty of blue sky between.

Eventually it was time to leave the South Downs Way and descend down into Kingston near Lewes. This very steep path was quite scenic in its own right, and parts of it were lined with some particularly abundant blackberry bushes, which Erika was quite happy about. Where the path finished, the old street in Kingston began, and it's a charming little village, houses built of a mixture of brick and the local stone, and before we got to the pub we stopped briefly at a "farm shop" which was just a roadside honesty box type setup, with a surprisingly large selection of fruit and vegetables.

We arrived at the pub a bit after 2pm, which turned out to be really rather nice - named The Juggs, after the old road from Lewes to Brighton which we'd be following after lunch back into Lewes. We had a very pleasant lunch in the pub's garden, accompanied by a pint or two of the local ale (Harvey's always seems to taste so much better in the vicinity of Lewes), before then setting out once more for the remainder of the walk back to Lewes.

This was a more pleasant stretch than I had expected - I had thought after the impressive views along the South Downs Way that the Juggs Road might be a bit bland, but actually the first section at least had a windmill and a wide open meadow with more splendid views to be had.

I think I would have liked to hang around in Lewes a bit but it seemed the girls were both a bit tired and keen to head back to London, so when we got back into the town we headed straight to the station and got the first train back to London.

Still, a lovely walk and nice to have been able to share a bit of the South Downs Way with Chie and Erika!



Comment 1
Ganbatte aruitane!
Totemo Igirisu rashii.
Fuusha mazurashiine!

Posted by yoko at 2018/08/27 14:38:26.
Comment 2
Ganbatte aruitane!
Totemo Igirisu rashii.
Fuusha mazurashiine!

Posted by yoko at 2018/08/27 14:38:44.
Post a comment