Dim Sum
Posted on 2018/01/28 09:57:32 (January 2018).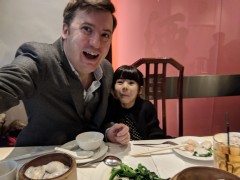 [Saturday 20th January 2018]
Chie went out for afternoon tea with her other Japanese Mum friends, which seemed to constitute the entire afternoon and even some of the morning.

In an attempt to keep Erika entertained on what was quite a damp and miserable day, I suggested we go for dim sum for lunch, which met with an enthusiastic response. So we went down to Joy King Lau, arriving just before midday so we wouldn't have to wait for a table. We had all our usual favourites (and I ordered almost as much food as I would have had all three had been there), and it was delicious as always. After that, as a special treat for Erika I took her to the M&M's shop, which Chie normally refuses to go into because she doesn't like the smell. It is a bizarre edifice, quite why this American confectionery needs to be celebrated so exuberantly in a prime location in London I do not know. Also as to why people will willingly hand over money for branded merchandise from key rings to cushions with the M&M logo on I also am at a loss - effectively paying to have advertising material in your own home. I managed to convince Erika that we only wanted some of the actual sweets and that was it.

We followed that with a visit to the Lego shop, which I was naturally much more keen on, albeit slightly disappointed that when I told Erika we could buy something small she chose a keyring rather than something we could actually build. It did have LEDs in though, so I could sort of understand the appeal.

Having bargained with Erika that we could go to some of the shops she wanted on the condition we could also go to the shops I wanted, we then went to a couple of shops to look at tweed suits. The first, Walker Slater, is my standard haunt, and we made this a quick-ish visit as they didn't actually have the suit I wanted in stock. After that we had to make a quick stop in a nearby coffee shop / barber shop, mainly so Erika could use the toilet, and I amused myself by asking the tattooed barber / barista / hipster if he could make a babycino for Erika. He replied with a completely blank expression.

The second tweed suit shop, somewhat more vintage / hipster leaning Thomas Farthing was a new one for me. I managed to bribe Erika into staying at the latter shop long enough for me to try on a suit with the previously acquired confectionery.

Headed home after that. In the evening Erika helped Chie cook dinner while I had what I considered to be a well earned rest.



Post a comment