Bintang and Christmas Tree
Posted on 2017/12/13 23:56:55 (December 2017).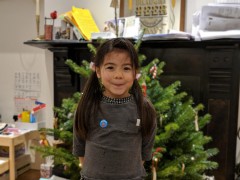 [Thursday 30th November 2017]
Tried a pan-Asian place in Kentish Town for lunch - Bingtang. It was good. In the evening we put up our Christmas tree.


Comment 1
Christmas tree junbi dekitane.

Posted by yoko at 2017/12/15 10:28:50.
Comment 2
I think Erika was stretching her Christmas stocking in the hope that more presents would fit in it!

Posted by John's Mum at 2017/12/17 08:19:20.