School Disco and Murder on the Orient Express
Posted on 2017/11/11 10:56:54 (November 2017).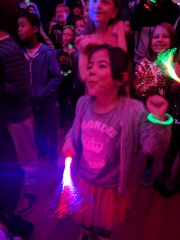 [Thursday 9th November 2017]
Erika had a school disco in the evening. She was very excited at the prospect but I wasn't too keen on going. I suppose it wasn't too bad, and not nearly as naff as I remember mine being (Agadoo etc). Afterwards Chie put Erika to bed (most of the time I do this job) and I decided to go out for an evening stroll. I got as far as the Pineapple and once there suddenly decided on a whim I'd go and see new remake of Murder on the Orient at the cinema. After a long hiatus of being quite convinced I didn't really like going to cinema (finding my own home an infinitely preferable environment in which to watch a film), watching Bladerunner 2049 at the Everyman Cinema in Hampstead reminded it wasn't so bad - there was hardly anyone else there for that screening. Orient Express tonight was a fair bit busier, and I was somewhat reminded of why I didn't really like the cinema - being subjected to half an hour of advertising at the start (why, I wondered, have I paid £20 for this?), and then having to listen to someone a few seats away who had fallen asleep snoring through the latter third of the film. Still, it got me out of the house, kept me off the streets, etc.

As for the film itself, it was OK. A bit hammy and overacted, not big on realism, but in places had a pleasingly glamorous atmosphere which I enjoyed.



Comment 1
Erika chan noriniri de tonoshinde irune!

Posted by yoko at 2017/12/07 06:54:11.
Post a comment