Shoe Repair
Posted on 2017/11/11 10:56:53 (November 2017).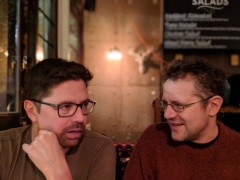 [Wednesday 8th November 2017]
Finally got around to getting my brogues repaired today - one of the soles had become partially detached from the uppers, the other sole had a hole in it. So I would consistently get wet feet with even the most lightly damp conditions underfoot. Presumably this would eventually lead to trench foot if action were not taken.

So I dropped them off at "Tony's Heel Bar" in the morning (why are these places called "bars"?) and impressively they were ready to pick up later that day. Tony was an interesting character, missing several teeth, and probably high on the shoe polish vapours. I think he did a pretty good job on my shoes, giving them a new lease of life.

As I was down at the Southern extremities of Kentish Town around the end of the working day, and was being pestered by Jim and Andrew to go for a pint, I arranged to meet them at the Prince Albert in Camden for a bit. Was back home in time to read Erika a bedtime story though.



Comment 1
Cobblers! Much better name for people who repair shoes.

Posted by Rob Lang at 2017/11/12 18:29:21.