Zoe with Zoe
Posted on 2017/11/11 10:56:50 (November 2017).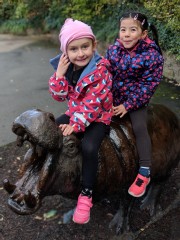 [Sunday 5th November 2017]
Met Erika's friend Zoe and her parents for lunch at the Franco Manca in Kentish Town, then afterwards we all went to the zoo together. Quite a nice autumnal day today, albeit a tad chilly.

After the zoo we went home by way of Whole Foods, where I bought some things for dinner.



Comment 1
Hisashiburi no London Zoo de tanoshisou!

Posted by yoko at 2017/12/07 06:57:29.