Regency Cafe and My Club
Posted on 2017/11/11 10:56:49 (November 2017).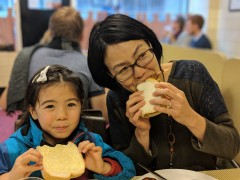 [Saturday 4th November 2017]
To my surprise Chie declared this morning that she wanted to go for breakfast at the Regency Cafe, and seemed quite determined. Erika too was keen on the idea. I attempted to advocate just being lazy and going somewhere a bit closer to home but it was two votes to one. So, with my stomach already rumbling, we headed out, got on the tube down to Pimlico, and then had a long wait in the queue at the Regency Cafe, which seems to get more popular every time we go there now. Thankfully after we finally made it to the front of the queue (a good half hour wait) and ordered our food arrived very promptly, and bizarrely despite the queue being out the door, after we ordered there was a free table waiting for us - I've never quite figured out the maths behind how this actually works, but it always seems to.

Breakfast at the Regency, as it always has been, excellent, and I'm really glad to see Erika is starting to develop a bit of an affection for the place too (she was a bit lukewarm back when we actually lived locally).

After breakfast we fell back into what used to be our standard routine on Saturday mornings when we lived in Pimlico - we took a slow amble in the direction of St. James's Park. Although the weather wasn't at its best today - quite damp in fact - the park was very autumnal and quite atmospheric, and the girls spent a while chasing after leaves as they fell from the trees, trying to catch them - it is surprisingly difficult.

From there we went to my club, which looks out onto Green Park, for a cup of tea. Erika has technically been once before, but she slept through it, and I thought it might be nice to show her around quickly, as recently, perhaps partly as a result of our trip to Venice, she has started to develop at least a slight appreciation for grand buildings.

We dithered with the idea of gong to the Tate Modern next, as Erika had been learning about Matisse at school (yes, she's only 5!), but in the end she went off the idea and we headed back to Kentish Town instead. Had a late-ish lunch at Wahaca, then I popped down to Camden to do a bit of shopping (most importantly coffee beans) and then we spent the remainder of the day back at home, having satisfied ourselves we had done enough on what was after all a bi of a wet and grey sort of a day.



Post a comment