Garden Cupboard
Posted on 2017/10/10 22:39:15 (October 2017).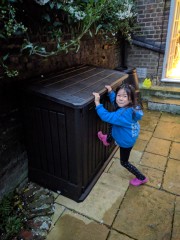 [Saturday 7th October 2017]
Mostly lazy day. Went to a burger place in Camden for lunch, then I popped down to St. James's to do a spot of clothes shopping. Later on in the afternoon I went to Homebase and bought an outdoor cupboard for the garden to help with some of our storage issues.


Comment 1
I totally need one of these. Not the little girl, the garden cupboard. Crap. What has become of me.

Posted by Rob Lang at 2017/10/30 10:00:49.