Back to London
Posted on 2017/08/20 10:45:29 (August 2017).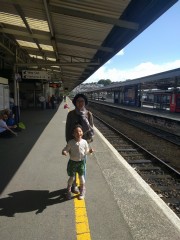 [Friday 18th August 2017]
Said out final goodbyes at the house in the morning, drove back to Plymouth to drop off our hire car, then got the train from there back to London.


Comment 1
Takusan no shasin wo arigatou!
Otenki yokute minasan atumatte
tanosisou!!
Vera san ogenkisoude yokattadesu!

Posted by yoko at 2017/08/23 02:24:02.