Shopping, Dim Sum, BBQ
Posted on 2017/04/30 08:56:50 (April 2017).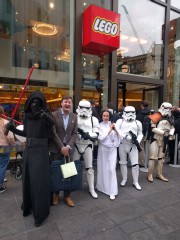 [Saturday 29th April 2017]
The main event for today was a barbecue at our friend's place in Brixton in the afternoon. However Erika had been saying for a few days now she wanted to go to our favourite dim sum place - and both Chie and I were delighted to hear Erika say she wants to eat something which isn't chocolate / gummies / ice cream. Knowing that afternoon barbecues can often mean eating at closer to dinner time, we thought it prudent to have a light lunch first.

Before the dim sum, Erika accompanied me to go and pick up my two new suits in and around St. James's. She waited fairly patiently outside the changing room at the first place and slightly less patiently inside the changing room at the second place, and after both fittings provided some short but broadly positive feedback ("Do you like it Erika?" - "Yes."). We went via the Burlington Arcade between the two shops, so also popped into Laduree to buy some macarons to take to our friends in the afternoon, and to Penhaligon's to sample a couple of fragrances. They gave her her own little sample bottle with which she was quite delighted (and Chie had to later wrestle off her because she kept spraying on herself). It felt wonderfully effete, flouncing around in this fashion with Erika in tow.

The dim sum at Joy King Lau was as delicious as ever.

We had a bit of time to kill before it was time to head to the barbecue after that, so initially we went and got in the queue for the Lego shop, but then Erika saw the (presumably new) Nickleodeon shop instead. Inside it was worlds apart from the gratifyingly sober menswear emporia we had been frequenting before lunch, with the rather bizarre notion that one might pay money to wear a garishly coloured article of clothing which gave free advertising to the brand you'd just paid money to. Thankfully Erika didn't actually seem to want any of these garish articles - but did like having her picture taken with "Shimmer and Shine". After leaving I then similarly had my picture taken with some Star Wars characters outside the Lego shop.

On arrival in Brixton I felt slightly self conscious as I walked past a socialist with a megaphone calling for an end to capitalism, in my tweed suit, carrying two new suit bags, a bag with a dozen macarons in, another bag with a bottle of Pol Roger, and a final bag with some fragrance from Penhaligon's. Thankfully she either didn't notice or just declined to make a comment.

At the barbecue (which turned out to be a more indoor affair as the barbecue had ran out of gas) Erika played happily with her friend, whilst I engaged in a very grown up conversation with the other parents present about tax, etc.

We left around 6, Chie and Erika had another social engagement in the evening back up North. I met Natalie for a quick glass of wine at a wine bar which was possibly the epitome of Brixton gentrification, before heading home to try on my new suits again.



Post a comment