Ye Old Mitre, Whisky Society, and San Carlo Cicchetti
Posted on 2017/04/29 08:37:07 (April 2017).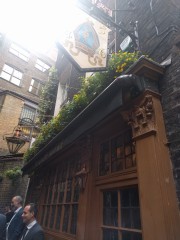 [Friday 28th April 2017]
Actually worked from the office today as, to to my surprise I had a meeting, at the office, with other people at the office.

Perhaps as a result I felt quite grumpy, and left early to go to Ye Old Mitre - haven't been there in ages - to cheer myself up. Was quite happy to just sit and have a solitary pint there, but Andrew came along and joined me, which was very pleasant, and we sat in the grumpy old man corner being grumpy old men. Andrew having recently been to Islay, the conversation then led to whisky, and so it being just round the corner it seemed like a good opportunity to revisit another old haunt - the Whisky Society - where I also hadn't been for quite some time (my membership had lapsed, so it must be at least a year).

Andrew didn't want to stay particularly late, so after a whisky or two at the society, he headed home, and I attempted to meet up with Ricardo, who was in Soho. By the time I got there he had already left, so instead I went for a late dinner at San Carlo Ciccheti, then headed home.



Comment 1
This condition is fairly limited to the reproductive system and can have several causes for example a results of injury or abnormal blood circulation in the testicles. Core maca through the supplier energetix is an herb that tests very well for assorted males.

Posted by AMaceanymn at 2017/08/13 04:21:14.
Post a comment