Hinamatsuri Dolls
Posted on 2017/02/12 11:27:17 (February 2017).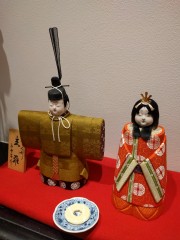 [Saturday 11th February 2017]
We didn't really have a plan for today, there was some discussion of possibly going to the zoo, but we suggested to Erika it might be a bit cold and after breakfast she decided she'd rather just stay in. I did my standard Saturday morning pop to the bakers to get things for breakfast. It snowed on and off, but never quite enough to settle. Cobbled together something based on cous cous for lunch, and for dinner we lazily got pizza from the new place just round the corner, which is actually fairly decent, but always deserted.

In the evening Chie set out the Hinamatsuri dolls (they usually go up a few weeks before Hinamatsuri (girl's day) which is on March 3rd. Erika presented them with an offering of a Party Ring, which I thought was rather sweet.



Comment 1
Ohinasama chanto kazatte kurete ohinasama mo uresisou.!

Posted by yoko at 2017/02/16 01:27:08.