Deptford
Posted on 2016/11/06 17:37:04 (November 2016).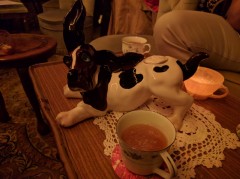 [Friday 4th November 2016]
Andrew from work has lived in Deptford for a couple of years now, but has never painted a particularly rosy picture of it, so that added to the fact it's a bit of a trek from central London meant I'd never really been particularly keen on the idea of going down there. However earlier this week he'd mentioned there was a new hipster bar which had just opened there, and given my current copious supply of free time I'd called his bluff and asked him when we were going there.

Everything about the bar in question sounded Hackneyed (note the deliberate capitalisation to underline both interpretations of that adjective there) but we were all quite comfortable with the idea of attempting to pretend to enjoy it in a post modern ironic way, or however it is hipsters come to terms with this sort of thing. The theme was kitsch 1980s chintz mixed with lots of temporally appropriate pop culture references, and in particular numerous tips of the hat to characters from Eastenders during that era.

The staff were actually very pleasant and welcoming, which left me confused as to whether this was indeed an instance of the usual dispassionate aesthetic parasitism typically associated with all things hipster, or whether the same apparent end result had been reached by some genuine warm hearted nostalgia. It's of course impossible to tell.

The drinks were of course served in teapots, a gimmick which we initially reacted to with ennui, but the cynicism of our group universally melted on discovering there was a teapot shaped like a dog.

As an added surprise, amongst their collection of assorted teacups to serve the drinks in, they had a Noritake cup exactly like the set I have at home, "inherited" from Mum and Dad, and something I rather treasure. So actually I felt a slight affront at seeing it in amongst the other naff / chintzy old 1970s / 1980s teacups, as I think the Noritake set is rather elegant.

The food offerings - mostly deep fried as far as I could ascertain - had an almost Proustian quality, amplified by the constant lingering of the smell of a domestic deep fat frier in the air - somehow not the same fragrance as a large scale commercial deep fat frier. It's been many years since I've been in the presence of a domestic deep fat frier.

It's hard to say I've really been to Deptford still, as the bar was only two steps outside the entrance to the station, but I did at least - despite all the odds - enjoy this place.



Comment 1
The Noritake Yvette was bought no later than summer of 1970 in Swansea, could even have been 1969, so what they were doing with it in 1980's theme place I have no idea!

Posted by John's Mum at 2016/11/10 22:19:17.
Post a comment