Hampstead Heath
Posted on 2016/11/06 17:07:52 (November 2016).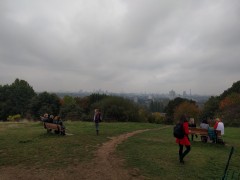 [Saturday 29th October 2016]
Had considered going down to West Sussex today, but hadn't quite got my act together in time, and also thought, on reflection, that after spending at least 4 hours travelling by train every day for the last four days (and over 8 yesterday) I could probably do with a day without any trains.

In the morning I thought I'd tackle the hedge, which probably was due for a trim about a month ago, but I hadn't quite got around to. It had got particularly high, such that I thought I ought to go out and buy step ladder to do it properly. That felt very grown up.

Ricardo had mentioned he was planning on heading to Hampstead for a pub lunch, and that sounded like a nice plan - particularly as I could get all the way there entirely on foot. So, a little after midday, I set out in the direction of the heath, and had a pleasant stroll taking in the views of London from Parliament Hill as I went. Met Ricardo his friend Milo at the Holly Bush, where we had lunch sat around a table which wasn't really big enough for the three of us, squeezed into a corner between two other tables. I generally like the food at the Holly Bush, but on this occasion I found the dish I chose a bit weird, it couldn't quite decide whether it was trying to be European or Asian and I don't think it really worked as either.

Conversations with Ricardo tend to be on the eclectic side and I don't recall any single particular theme. I recounted the very differing standards of hygiene between me and my Dad that I'd obsrved during our week in Italy, particularly the chocolate bar incident - and that seemed to recur a bit throughout the day. Perhaps the excerpt I found most amusing though was when I was talking about how much I like salty food, and how I theorised it came from the fact I grew up in - at which point Milo interjected - "a salt mine?". Ricardo also found this quite amusing, but unfortunately was mid way through chewing on his gnocchi, upon which he then began to choke instead.

After lunch the three of us took a stroll back over the Heath and, in the absence of any other plan I proposed heading to the Southampton Arms, where we were also met my Ricardo's other half Catherine. I was pleased to see her, as I'd heard she happened to know the parents of one of Erika's friends, who we'd recently found out are from a particularly interesting aristocratic background, and I was fascinated to learn a bit more about them.

From there we also went along to the Pineapple for a final drink, after which I bade them all adieu - Ricardo had very kindly invited me to join them at the Halloween party they were going to later, but I decided I'd done enough for one day, was still a bit tired from the long journey yesterday so I left them to it.



Post a comment