Erika, the Hostess with the Most Stress
Posted on 2015/11/15 10:04:25 (November 2015).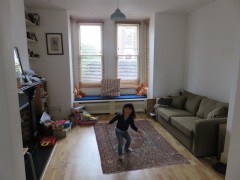 [Saturday 7th November 2015]
We tidied the flat in the morning, and Chie decided to move the dining table from the corner of the lounge to the kitchen. Although it's a bit of a squeeze in the kitchen, it does open up the lounge a bit, gives Erika a bit more room to run about, and it's nice that she can sit close by when we're getting meals ready etc.

Having carefully tidied up, we didn't want to mess it up by cooking or anything, so went out for lunch to our little neighbourhood pasta place. After that I took Erika for a quick ice cream, then set about trying to get her to have an afternoon nap, as she had a friend coming to visit later in the afternoon and we knew she'd be hard work if she didn't have a sleep first. This proved to be a bit of an undertaking, Erika will still only really sleep in her buggy whilst out and about, and it was raining quite heavily. I trudged determinedly through the rain until she eventually fell asleep, thinking that as a reward for my efforts I might have a quiet pint at the Camden Town Brewery. On arrival there was a load (and not particularly tuneful) band playing, so that was obviously not going to happen, which, given the awful weather, meant I was a little bad tempered by this point.

Instead, I took Erika back home, deposited her there whilst still dozing, and trudged off to the Southampton Arms to cheer myself up.

After one quick drink there, it was time to go and meet up with Beatrice and her parents - a friend of Erika's from her previous nursery, at Bear and Wolf. Erika was then determined to invite them back to our place, which we did, but she did not exactly make for an excellent hostess. She wasn't prepared to share any of her toys, and when I tried to entertain the girls with the "rainy day game" (which consists of trying to find a rubber duck) Erika threw a tantrum when Beatrice found it first. Beatrice's parents don't even drink, so I couldn't attempt to compensate by plying them with Gevrey Chambertin. Instead they decided to head home at that point.

So that was not a very successful play date.



Post a comment