Saturday in Venice
Posted on 2015/10/18 15:35:24 (October 2015).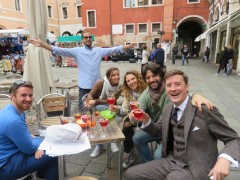 [Saturday 10th October 2015]
Arrived in Venice on the sleeper train in the morning, found some much needed coffee (having not slept particularly well), and dropped my luggage off at the rather splendid hotel I'd chosen, overlooking the grand canal. After revisiting a memorable pizza place from my previous trip, I spent the afternoon exploring the bacari of Venice, and made some new friends along the way.


Comment 1
Venice watasimo itte mitaina!

Posted by yoko at 2015/10/31 10:19:49.