Zoo, Chie's Friends, and a bit of Gastroenteritis
Posted on 2015/10/08 23:45:42 (October 2015).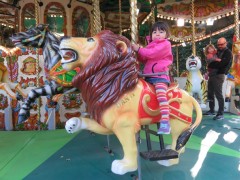 [Sunday 4th October 2015]
Erika had been asking to go the zoo the past few days, so even though I wasn't feeling particularly 100% I heroically took her there in the morning, which also had the added benefit that Chie could go off to see her European friends from her university days who were in London this weekend. As is often the case, at the zoo Erika didn't seem particularly interested in actually seeing many animals (although I personally thought the penguins were on good form today), but instead spent a lot of time on the other distractions - the carousel, the bouncy castle, and, for the first time, the big inflatable slide. I'd thought Erika wasn't quite tall enough to qualify for this, but we stood her up against the height chart and she did seem to be right on the line. The first time she managed, with some coaxing, to slide down by herself, but on the second attempt a bit later on she got stuck at the top, and didn't seem to have the confidence to slide down. It is, in fairness, rather high up. Very sweetly though, two sisters arrived at the top of the slide, and without any discussion each took one of Erika's hands, and the three of them slid down together. I almost got a bit teary on seeing this, it was really lovely. I made a point of thanking their father, who was standing next to me, and wanted to go on to say what a great Dad he must be to have raised such kind girls, but English reserve made me stop short of that. I think he got the message though.

Chie's friends were keen to see Erika (and me, apparently?!) so we didn't stay too long at the zoo, and not long after the big inflatable slide (then a bit of a play in the playground) I managed to persuade Erika to leave. We got the tube over to Moorgate, then a taxi from there to Brick Lane, and met Chie and her friends in Brick Lane market for lunch (actually, they'd already eaten) - we had pizza at some sort of pop up pizza van place. Very hipster. We waved off all of Chie's friends not long after that, most of them were flying back to various bits of Germany that afternoon / evening. Chie, Erika and I headed back home, with a stop off at the Pineapple for a quick drink outside.

In the evening I was keen to make a roast dinner, perhaps partly with the thought in mind that the girls were heading off to Japan in a few days time, and so somehow some English food seemed very appropriate. Part way through cooking I remembered we had forgotten the Yorkshire pudding tray when we'd moved house in February (has it really been that long since I've made Yorkshires?) and so having already made the batter I attempted to make one large Yorkshire, which I guess was moderately successful. Erika ate some of that and not much else really.

I started to feel rather unwell after dinner. I'd had a bit of a funny tummy since Friday evening, and hadn't really given it much thought, but as the evening wore on it became apparent I actually was in the midst of a bout of gastroenteritis - admittedly in hindsight not a particularly severe one - but suffice to say the remainder of Sunday evening was really quite decidedly unpleasant.



Post a comment