Grandma
Posted on 2015/07/18 22:14:15 (July 2015).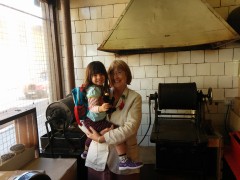 [Saturday 11th July 2015]
Mum (Grandma Mary to Erika) came to visit today. As is often the case I had some Saturday morning chores to attend to first, after Erika and I got the bus down to Camden to meet her, as I wanted to buy some coffee beans in the delightful Camden Coffee Shop. The 100 year old roasting machine was in full swing, and I got a really nice photo of Erika and her Grandma while we were there. We briefly popped into Waitrose after that, before hopping back on the bus to go home for coffees which turned out rather well I thought (the first few pours from a new bag of Santos Dark from Camden Coffee shop are usually excellent), and some croissants which were rather disappointing.

For lunch, I continued the theme of trying to find interesting new cuisines to try with Mum, and somehow or other decided on Peruvian for today. It has apparently been enjoying a bit of a vogue in London the past couple of years, and it would be completely new for all of us. So we got the tube down to Soho, and had lunch at Ceviche, wherein both Chie and Mum seemed to find the eponymous dish far too fiery, but some of the other dishes seemed to fare better. I'm not sure I was particularly excited by the vegetarian dishes, which all felt a bit too side dish like, in particular the vegetarian version of ceviche, although I did like the taste of the dressing/marinade, fiery indeed though it was.

After that we made a pilgrimage to Fortnum and Mason to buy violet creams, and I briefly popped into Jermyn Street to try on a morning suit, but Erika was overdue her nap at this point, and we hadn't brought the buggy with us, so it seemed prudent to head home. It only took a few minutes of walking round the block with Erika in her buggy after returning home to get her to drop off.

Made a lazy pasta bake for dinner, which Mum had a small bowlful of before heading off to get her train.



Post a comment