Day after Al's Stag Do
Posted on 2015/07/05 17:15:17 (July 2015).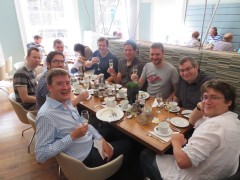 [Sunday 5th July 2015]
Despite having gone to bed some time after 3am, for some bizarre reason I woke at 7:30 (3 hours before our train was due to leave) and couldn't get back to sleep. So I decided to get up, and take advantage of what appeared already to be a very pleasant morning, and go for a stroll around Edinburgh. We'd spent yesterday mostly indoors, and between the various venues had often been rushing about, so felt like I'd hardly seen anything of the city. As such it was very nice to have an hour or so to myself to take in the sights. I did a complete lap around the castle, which was looking particularly gorgeous set against the delightfully blue sky, and also managed to quickly poke my nose in at the Edinburgh Clubhose of my club, which also offers great views of the castle.

Got back to the hotel for 9 and had breakfast with the rest of the chaps from the stag do - was quite impressed they all made it down. Owing to a slightly odd situation with our hotel booking, we'd been given some credit to spend at the hotel, but with the condition that it had to be used up before the end of our stay. After 9 breakfasts were paid for still £70 or so remained, and so rather rashly a suggestion was made to have a bottle of Champagne with breakfast. I could only manage one tiny sip.

Got the train at 10:30, and decided to be anti-social, upgrade myself to first class, and get a bit of peace and quiet for the journey home. I'd hoped I might be able to have a nap on the train, having only had about 4 hours sleep, but despite being quite comfortable in my first class seat this didn't happen.

Got back home some time after 3, and the girls got back from there afternoon out a short while later - it was a delight to see them, even after just one night away. Made a rather half arsed approximation of Sunday Roast for dinner, then fell asleep the same time as Erika.



Post a comment