Al's Stag Do
Posted on 2015/07/05 17:15:16 (July 2015).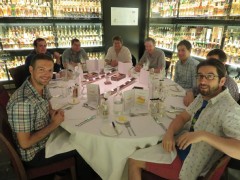 [Saturday 4th July 2015]
I'd been chosen to be Al's best man, I like to think at least partly on the basis of him guessing the sort of stag do I'd organise for him, so I'd attempted to then plan just what I imagined he would have imagined I would plan.

To that end, it very much centred around whisky, and whilst I'd originally mulled over the idea of trying toget to Islay, it really just hadn't seemed practical in the space of a weekend. Edinburgh was much more achievable, and of course a bit more lively than an event based on an island (albeit a very nice one) would have been.

We got a 9am train from Kings Cross, which got us to Edinburgh for 1:30pm. On arrival, after a bit of faffing around getting checked in and dropping our bags off at the hotel (I'd chosen the Apex Waterloo Place for convenience, very close to the station) we got in two taxis and headed to Leith, originally with the sole intention of going to the Scotch Malt Whisky Society, but one of the chaps had proposed going to a new Indian restaurant there for lunch first (a place called V Deep) which had been getting good reviews and by chance was right next door to the Whisky Society. I'm not sure it was really my cup of tea - perhaps I was just unfortunate to have picked two rather uninspiring dishes on the menu, and the accompanying craft beer isn't really my thing either.

After that we went for a couple of drams at the Whisky Society, but soon realised if we were going to make the next appointment on our agenda (a ghost tour) we'd have barely an hour there. That was a bit of a shame, as Al and I have been members of the SMWS jointly for years, and this was the first time we'd both been in Edinburgh (and Al's first time to visit the Vaults in Leith) so I'd really hoped to linger longer - I was all for just abandoning the ghost tour but it had been deemed important we do at least one thing during the day which didn't involve drinking, and I think there was probably some sense in that.

So thus followed a rather hurried taxi journey back into the centre, with one taxi predictably getting lost en route, and we only just made the tour on time. The tour was itself predictably, well, a bit predictable. It was through the vaults under the South bridge, which I realise I'd actually been on a tour of before (I think last time we'd done a history flavoured one rather than a ghost version).

After that there followed a pub crawl (albeit just two pubs), which owing to the pressure of a couple of the chaps wanting to use the loo rather imminently was not quite as selective as I would have liked it to be.

Everything seemed to be taking longer than expected today - I think that's just the nature of doing anything with a large group, and so already it was time for the main event of the evening - dinner.

I'd really pushed the boat out here, and booked a rather special private dining venue - amidst the Diageo Claive Vidiz Whisky Collection, the world's largest collection of unopened Scotch Whisky bottles, which were held in the Scotch Whisky Experience near the castle. I think all present were suitably impressed by this, and although many other aspects of the day had turned out not quite how I would ideally have liked them, this bit at least, through the simple application of a large sum of money, was pretty close to perfect. It was a really unique experience to dine amidst the glow of over 3000 whisky bottles and the amusingly over the top number of staff - there were more of them than there were of us I think, and they were there purely for our benefit - lent to a luxurious air which I don't think any of the chaps were really expecting on a stag do.

The meal went on until 11ish, I'd initially worried that might take up too much of the evening and we'd all be tired by then (and/or we'd have missed most of the pub/bars by then) but of course Edinburgh stays open much later than London, and there were loads of places still very much open at that time. I hadn't actually planned anything past this point, organising the dinner having consumed a lot of my administrative energy, but we managed to just wing it and go to a couple of bars followed by a fairly random night club having a "funk and soul night". Amusingly the bouncer was in two minds as to whether to let me and one of the other chaps in because we were wearing "blazers" as he put it, and we'd be a bit overdressed. Ultimately I told him I liked Belle and Sebastian (no idea where I got that inspiration from) and he waved us through. I didn't really stay all that long, by this point it was gone 2am I think, and I pretty much felt like my work for the evening was done. So I slinked off and headed back to the hotel leaving the rest of them to it.



Post a comment