Folkestone
Posted on 2015/07/05 16:58:17 (July 2015).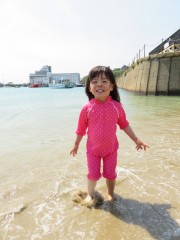 [Friday 3rd July 2015]
Since tomorrow was July 4th, most of the people I work with in the US were out of the office today (and also had been the day before). Given that my ability to get various things done was a bit impaired in their absence, and it was also a very nice day here in London, and on top of that I was mindful of the fact I'd be away for a big chunk of the weekend, I thought it would be really nice to take the day off and spend it with Erika. I think Erika likes her nursery on the whole, but despite that often in the morning if I'm taking her there she says she doesn't want to go, and wants to stay with me instead, which is of course simultaneously very sweet but also a bit upsetting, as usually I have to tell her I have to go to work instead. So it was lovely this morning to be able to give her a choice - "Do you want to go to nursery today, or do you want to go to the beach with Daddy?".

I'd done a quick bit of research, and discovered a surprise candidate for a destination - Folkestone. Not somewhere I associate with the beach at all, having always assumed it to be quite industrialised because of the ferry port, but actually it turns out it's probably the only seaside town with a sandy beach within an hour's train journey of London.

Of course what the very efficient and convenient 53 minute train journey from St. Pancras on the high speed line belies is the fact that it's actually a bit of a trek from Folkestone Central to that sandy beach (probably should have taken a taxi), and it also wasn't all that well signposted. Not sure we went the most optimal route - on arrival at the sea we were at a clifftop with only a pebbly beach below us. That did mean we got to ride on the delightful old Victorian lift down to sea level, although I'm not sure Erika particularly enjoyed this as she had suncream in her eyes, which made her a bit unhappy.

We initially went and sat on the pebbly beach, which was unsurprisingly deserted, and I was left confused for a moment as to weather we'd been missold on this promise of sand - was it all just covered up because it was high tide? A quick bit of research on my phone reassured us we were just on the wrong beach, and so we walked from there along the seafront until we discovered the cute little harbour - which I couldn't get past without getting Erika a "hamigagkiko" ice cream (toothpaste in Japanese - how I described mint to her) - and beyond which finally we found the sandy beach. As it was high tide there was just one small section which wasn't submerged, and there were rather a lot of people on it, but we went, found ourself a little bit of space, and got out the bucket and spade.

It took Erika a little bit of time today to get into the spirit of things, I think the combination of the fact it had taken a while to get here (I'd thought it had been fairly quick, but 2 year olds obviously have a very different perception of time!), and getting suncream in her eyes, then the initial damp squib with the pebble beach, then me eating a bit too much of her toothpaste ice cream (it was getting very messy, I was trying to help) had meant she wasn't at her chirpiest, and I'd started to worry it was turning into a rather unsuccessful day out. However it didn't take long in the sunshine on the nice little sandy beach before she started to enjoy herself. We made a few sandcastles, which led to a more ambitious excavation ultimately involving a bridge, and a channel leading back down to the sea, which we enjoyed pouring water from Erika's bucket into, and watching it gush down. After a while of digging she changed into her swimming costume and I was impressed by how brave she was in the water - each time we went in to fill up the bucket she went further and further, until she was happily going in up to above her waist. It was a delight to watch. She made a friend while she was there (of course!) who shared her beach toys with us, and we all went looking for seashells together as the tide started to go out, exposing more of the beach.

Eventually I think the other larger beach round the corner started to be uncovered, which caused lots of the people on our little beach to migrate over there (either that or the slightly unnerving smell of manure which wafted across the beach - I think that was coming from somewhere inland rather than the water, as we could smell it all the way back at the station later on, but still a tad offputting!). So at this juncture after a bit of negotiation I managed to persuade Erika to leave, mindful of the fact I wanted to have a late lunch before we left (I don't think the ice cream earlier really counted), and didn't want to get stuck in the rush hour on the way back home.

For our late lunch, we went to one of the fish and chip shops along the front - I chose the newish and slightly upmarket looking "Smokehouse" based primarily on the fact it looked like it had clean and well maintained toilets (following a brief inspection of the rather unpleasant public facilities nearby). I'd thought I should probably change Erika out of her swimsuit, but she didn't want to, so instead spent lunch wrapped in a towel sat on my lap. Pleasingly they had "pretend fish and chips" on the menu as I explained it to Erika (halloumi in batter, and a particularly well executed version thereof), and Erika wanted to have "big fish and chips" although I intervened and just asked for the smallest they had, which turned out to be the right decision as she didn't really eat a huge amount. Oh and I ordered mushy peas on a whim, not something I've ever been a fan of, but theirs were actually rather tasty.

There was an otherworldly quality to our time in the Smokehouse, partly that always slightly odd atmosphere of being in a seaside town off peak - although in this case it was a lovely sunny day the school holidays had yet to start - and it being a weekday around 3pm the restaurant was nearly empty. Although it would have been a bit nicer if Erika had eaten a bit more, that aside with the doors open and the warm sea breeze wafting through, and Erika being very cuddly, it was quite idyllic.

Erika fell asleep in her buggy on the way back to the station, which was a good thing as the journey home required a change at Ashford, and took a bit longer than it had on the way there, and I think she probably would have got a bit bored. She woke up again just after we got back to St. Pancras, by which time it was just gone 5, and I thought it best to avoid the tube, especially as we had the buggy with us. So I started out in the direction of home thinking I might just try walking, but then we got as far as Granary Square, where Erika spotted the children playing in the fountains there, and given that she was already in a swimsuit, and we had a towel with us, I could think of no reason for her not to have a run around for a bit too. Of course she wanted me to come with her though, and I got quite damp in the process.

Eventually managed to persuade her to go home, and got a bus back from there, then gave Erika a shower (followed by a bubble bath at her behest) as soon as we got home to wash off all the suncream and sand.

Chie had decided to go to Ikea to finally order our bedroom cupboards in the evening, so it ended up being just the two of us from when Erika woke up in the morning to when she went to bed.

Really lovely day.



Comment 1
Natu!!!tanisinde irune!

Posted by yoko at 2015/07/06 13:38:01.
Comment 2
Lovely! This is worthy of being printed out and saved for Erika's 18th birthday.

Posted by John's Mum at 2015/07/08 21:34:43.
Post a comment