Frank's
Posted on 2015/06/10 23:06:33 (June 2015).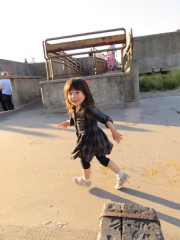 [Thursday 4th June 2015]
Andrew at work is rather obsessed with Frank's in Peckham, to the extent that in the weeks leading up to it actually having opened for the season, a week ago today, the precise opening date had been a constant source of discussion.

Owing to having had a bit of a hiatus from drinking over the past week and a bit, I hadn't been there on opening night as Andrew had, but by today the constant nagging to come along had been inescapable. However, having been out with Al and Kyle the night before I felt a bit bad about the prospect of abandoning the girls again, so, remembering that Frank's is apparently child friendly, decided instead to invite Erika and Chie along.

The sensible approach would be for me to have gone straight there from work, it only being a 10 or 15 minute train journey from Victoria, and have the girls meet me there. For some reason or other though that wouldn't do, so instead I first headed in the exact opposite direction to pick Erika up from nursery, then got the surprisingly pleasant train service from Kentish Town to Peckham Rye - no need to change - which for the first half at least, despite being at rush hour, was surprisingly quiet, so we had a table to ourselves. This was particularly convenient as I'd picked up sushi for us all to eat, so we had a very civilised early dinner on the train. I haven't been on this route before, and it was quite delightful - it passes through the centre of London (which is a rare thing on an overground train), and the view going over Blackfriars bridge was particularly lovely.

Once at Frank's I'm pleased to report it was a glorious summer evening, almost verging on being too hot out on the exposed concrete, atop the multi story car park in Peckham where Frank's resides. The view was great as always, and it was a good opportunity to try out my new camera a bit.

We didn't stay particularly late, what with having Erika in tow, and were back home by around 8:30. The return train journey was similarly delightful.



Post a comment