Tidying Up
Posted on 2015/04/23 23:35:18 (April 2015).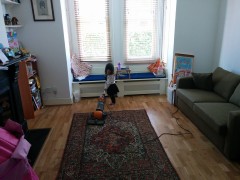 [Wednesday 22nd April 2015]
Tidied up the lounge in the morning.


Comment 1
Hi John - I thought this might interest you, as you like travelling to the Med by train:

"Tomorrow Eurostar launches its new year-round service from London to Marseille. At 1239 kilometres, the route is the longest ever served by any scheduled passenger train from Britain. A first in railway history. The previous record was held by the 2013 service to Aix-en-Provence.

Along the way the train from London to Marseille will make four scheduled intermediate stops. The first is at Ashford International to pick up passengers bound for France and the second at Lille Europe for a crew change where an SNCF driver will take over the train for the high-speed run south through France. Passengers can alight from this new service at Lyon Part-Dieu and Avignon TGV stations - and of course at the train's final destination at Marseille St-Charles. From the latter station, it is just a short stroll through the Quartier Belsunce to the port district.

Then and now: 50 years ago

It has of course long been possible to travel by train from London to Marseille - but until now it was always necessary to change trains along the way. Cast back 50 years and affluent travellers could board the Night Ferry train at London Victoria in the evening, and travel in a sleeping car all the way to Paris. The sleeping cars were transported on a ferry from Dover to Dunkerque. Arrival in Paris was in good time to allow a connection onto the lunchtime express to Marseille. This first-class-only train was called Le Mistral, and it positively breezed down the Rhône Valley, taking just over seven hours for the journey from Paris to Marseille.

That 1965 journey using the Night Ferry and Le Mistral from London to Marseille took 22 hours. The one-way fare for the journey, calculated in terms of today's monetary value, was over 400 pounds sterling. The new Eurostar service from London to Marseille takes 6 hrs 27 mins. Single fares start at under 50 pounds. The London-Marseille service will run thrice-weekly from tomorrow, ramping up to five times per week in each direction from 5 July."

Posted by Bryan at 2015/04/30 12:47:40.