Beaconsfield
Posted on 2015/04/23 23:35:10 (April 2015).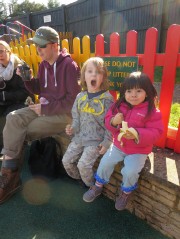 [Monday 6th April 2015]
We'd decided it had been far too long since we'd last seen Rob and family, and so were determined to meet up over Easter. The trains out to Reading were a complete mess, however, but undeterred I'd done a bit of research for an alternative place we could meet, which would be easy for them to get to by car, and had settled on Beaconsfield, the big attraction there being Bekonscot model village.

So Chie and Erika and I got on an early train out of Marylebone (I always enjoy having the opportunity to use this station, it's really delightful), timed so that we could be at Bekonscot for when it opened at 10. Rob et al met us at the station, and it was lovely to see that Felix and Erika immediately got on, and they held hands on the way to Bekonscot.

I think I may have enjoyed Bekonscot most of all - it was utterly charming and so very English - both the fact that all the model buildings were a distillation of Englishness (from thatched pubs to morris dancers) and that the idea of a model village somehow seems so twee and English in the first place. Utterly delightful.

The kids, whilst enjoying exploring all the model houses at first, eventually got wind of the fact there was a playground on site, and then wanted to head there instead. On the plus side this gave us grown-ups a chance to sit down with a coffee and have a natter. This was one of those moments which would have been very hard to imagine when I first met Rob (nearly 20 years ago!), that one day we'd be sitting watching our respective offspring run around a playground. When we were just starting university that notion would probably have seemed horrific but now it was, well, delightful (note to self - need more synonyms of "delightful").

I would have loved to stay longer at Bekonscot, but despite having got there for when it opened, it wasn't long before our thoughts were turning to lunch, and given the presence of two young children, the nice weather, and it being a bank holiday monday, the planning thereof could not be handled too complacently. I'd rather liked the idea of going to the Royal Standard of England, which claims to be one of the oldest pubs in England, and despite wavering a bit as it was a bit of a trek, and we might arrive to find it choc-a-bloc, the rest of the gang seemed willing to give it a go, so we pressed on in that direction. I think perhaps towards the end of the walk, the ladies at least were beginning to question whether they should have left the choice of venue up to me, but I think all was forgiven on arrival. It is a very attractive pub, we managed to find a nice table outside, and thanks to getting our order in very quickly we comparatively didn't have too long to wait. Rob kept the kids entertained while we were waiting by reading them a story, which was very sweet. I think the food was generally well received - Erika went for fish and chips (with a ridiculously large piece of fish for a kids portion) and it seemed would have just eaten the chips, enjoying the action of dipping them in ketchup, had we not intervened.

We left the pub around 2pm, and walked back into the centre of Beaconsfield, and said our goodbyes to Rob, Kate and Felix at the station, before Chie, Erika and I got on the train back to London.

Took a bit of a detour on the way back from Marylebone by way of Camden, to do a bit of shopping in the Whole Foods there while Erika was sleeping. We had been given a voucher - £5 off when you spend £25 or more, very easily done in Whole Foods.



Post a comment