Borough Market
Posted on 2015/04/04 16:21:04 (April 2015).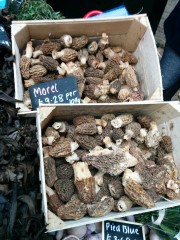 [Saturday 4th April 2015]
The combination of now owning a small cellar, and having discovered a surprisingly good independent wine shop not too far from our new abode, plus possibly having recently watched Brideshead Revisited, has meant that recently I've started to develop a bit of an interest in wine. I remember Keith Floyd's favourite wine producing village being Gevrey Chambertin, and somehow this has stuck with me as a little niche I'd like to explore more. So the other day I'd bought a bottle of Gevrey Chambertin Domaine Fourrier and had since been trying to think of something to eat it with. Most of the suggestions seemed to be somewhat gamey, of course mostly useless to me, but along that autumnal theme wild mushrooms were also mentioned. Of course, in April, that information isn't hugely useful either, but then I discovered that morels are in season from the spring.

So this morning we ventured down to Borough Market to buy morels, and while we were there I picked up some other interesting ingredients to build a meal for this evening.

After we'd done our shopping, since we were in that rough neck of the woods Chie suggested going to Manze's for lunch. We walked from Borough market, it was actually a bit of a trek over to Tower Bridge Road. It occurred to us we no longer had our bearings since moving - we used to get a bus there from Pimlico, but there wasn't such an obvious public transport route from there back to our new home. We ended up getting a bus which took us through some rather insalubrious parts of London before eventually heading to somewhere near Charing Cross, where we got on the tube.

I think we just hung around at home for the remainder of the afternoon, I assume Erika had a nap for a bit.

Dinner was then a bit of an undertaking - I sautéed the morels in butter and a little garlic, and served them on a bed of spätzle with emmental, and a little purple kale. As a side dish I made a fennel and baby artichoke gratin. The Gevrey Chambertin did go very well with the earthiness of the morels, and was quite delicious. Erika seemed to quite like morels, to our surprise, after some initial hesitation (they do look a bit weird) she had five or six in quick succession - I guess she liked the texture.



Post a comment