School Tour and Easter Bonnet
Posted on 2015/04/04 16:19:50 (April 2015).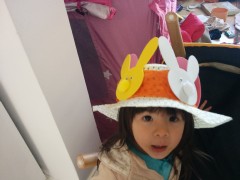 [Wednesday 1st April 2015]
Went on a tour of Erika's prospective school this morning - a big part of our decision to move to this area. I am pleased to report that it was really impressive, and I think lived up to all the hype surrounding it. After a chat with the head teacher the tour itself was conducted by a couple of kids at the school, who clearly loved the place. I had a very good feeling about it.

They were having some sort of Easter party at Erika's nursery today (they were closed tomorrow for training or something), and has asked us to make an Easter bonnet for Erika to wear for the day. As she only goes in on the afternoon this gave us this morning (working on the motto that if you leave a job until the last minute, it only takes a minute) to hurriedly make it. Our tiny local Sainsbury's had a surprisingly good range of seasonal things to assist with this - we managed to get an undecorated hat and a box of "crafty" things to decorate it with, and also in one of the other shops I managed to find PVA glue. Once back at the flat with these supplies, it took a while for me to re-learn the limitations of PVA glue, and after trying several designs which clearly weren't going to hold together, I settled on a final decision which relied on a bit of tissue paper (which had previously wrapped a bottle of wine) as a sort of band, to which I then stuck bunny faces. Whilst I don't exactly think I have a career in millinery ahead of me I consider it to have been a respectable effort.

Also today, we took delivery of a chair I'd ordered for Erika's bedroom - I wanted something to sit on when reading her bedtime stories, and waiting for her to fall asleep, as kneeling on the floor was really uncomfortable, and sometimes the process of getting Erika to go to sleep can be rather protracted. It's not exactly how I'd imagine it would be from the pictures on the website, a bit bigger than I'd hoped for (I thought it was more of a "cocktail chair" which despite the name look like kid's chairs), but it was cheap, and I like the fact it was made in Long Eaton, near where I grew up.



Post a comment