Thursday with Erika
Posted on 2015/02/28 16:01:41 (February 2015).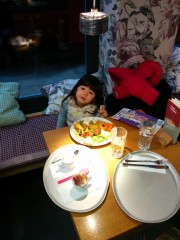 [Thursday 26th February 2015]
Today it was my turn again to help Erika settle in at nursery, and again they only wanted her to come along for an hour or two in the afternoon, from 2:30.

So in the morning I thought we might as well go a bit further afield than the immediate neighbourhood, and ventured down into the centre. I'd been wanting to get Erika some toy money for a while, as whenever I'd empty out my pockets of change on the window sill, Erika would climb up and play with it, and Chie would get annoyed because "you don't know where it's been". So we had a lovely time in Hamley's playing with lots of different toys, and impressively walked out with just the one thing we intended to buy - a small pack of toy money (which cost £5, and contained £1132 - seemed like a bargain to me).

After that, Erika wanted to have a babycino, and lunchtime was approaching, so we went for an early lunch at Tibits, it being not too far from Hamley's. It's always pot luck how much Erika will eat, seemingly no matter how hard we try and choose something we thing she'll like. This time, perhaps helped by the timing, she ate really well to the extent that, delightfully, I was left feeling hungry afterwards.

Then we headed back up North, and Erika went for her next settling in session at nursery, again with me waiting in the office. This time though, after we got home, and Chie got back, I decided to go into the office for a few hours in the evening so I only had to take a half day off.



Post a comment