Wednesday with Erika
Posted on 2015/02/28 16:01:41 (February 2015).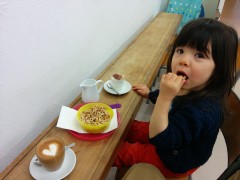 [Wednesday 25th February 2015]
It was my turn today to help Erika settle in to her new nursery.

For her first few months there, we'd only been able to get two full days a week, and three half days. So Tuesdays to Thursday she'll only be going in the afternoon. So today, in line with that, we had the morning to ourselves before she was due to go in the afternoon. I tried to make the morning fun for her, so we had breakfast at Bear + Wolf, followed by a long play in the play room there, then a visit to a nearby playground, followed by lunch at "the Arancini Factory" which I thought Erika might like, because she likes rice, but as it turned out she wasn't all that keen.

After that I took her to nursery - naively thinking I'd just hang around for 15 minutes, then, because this was her third day at the new place, and because she'd been going to the previous nursery for 18 months, I'd be able to just sneak off and go to work. As it turned out though, in the settling in week they only expect her to be there for an hour or two each day, and I was required to stay there (albeit hidden away in the office) the whole time. Still, it was rather nice watching her have fun running around the garden through the window.

After that, having accepted the fact I'd just be taking the whole day off work, Erika and I went on a long trek to our nearest Waitrose, all the way over on Holloway Road (it's about a 25 minute walk). Erika fell alseep en route.



Comment 1
Otukaresama!

Posted by yoko at 2015/03/21 02:36:55.
Post a comment